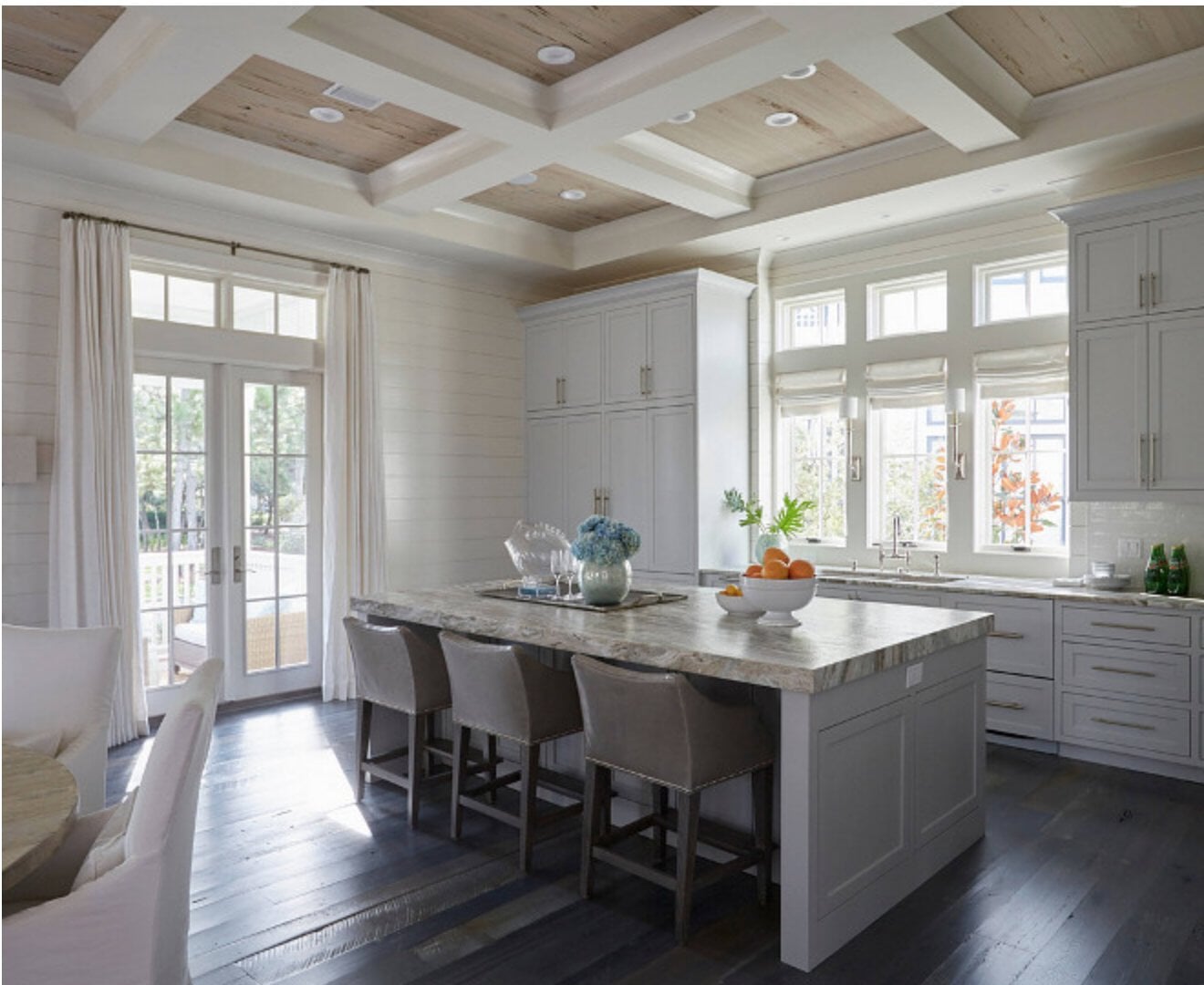 The Sophisticated 'Hamptons' style is inspired by the iconic region of
Eastern Long Island, New York: Southhampton, Easthampton,
Montauk, Sag Harbor, Amagansett may all sound familiar.
Sophisticated and elegant, it's where cool & classic meets casual beach vibes.
Chic blues, off-whites, creams, sea green, and moody grey hues 
are all colours you see when looking out on the
Atlantic Ocean from this super chic area of New York.
Wood-painted homes with open rail porches, gardens of colourful hydrangeas, and
privet hedges for privacy. Inside, its paneled walls and timber flooring
detail in these chic resort-like homes.
This style typically showcases designer fabrics with special trim details,
fresh flowers in sterling silver vases paired with cool and sophisticated table books.
For a step-by-step guide to creating the ultimate 'Hamptons' look explore the highlights below and shop the style here...
Ceilings:

  Vaulted, tray or panelled ceilings, clad in T&G boards, exposed natural, stained, or painted beams; porch ceilings in bright light blue hues.

Walls

: Paint colours like 'Pale Oak' and 'Hale Navy' by Benjamin Moore; or 'French Grey' by Little Greene Paint Company. Bright white glossy trim and walls. Aqua blue glass tiles & white veined marble in stylish mosaics. Seagrass, floral or scenic wallpaper in traditional or vintage patterns.


Floors:

  Typically dark stained oak, walnut, pine, or natural patina'd wood floors with woven & textural area rugs of jute, wool, and cotton in stripes of tans, navy, blue, green, and white. 


Lighting:

  Hanging chandeliers, wall lights in brass, glass, woven materials, rustic metals, or polished nickel. Silver finishes inspired by yachts are particularly common. Nautical lighting is oft used along with oversized table lamps in Blue & White Chinoiserie.  Wall lights and ladders hung on expansive book shelves a common detail too. 

Architectural Details & Casegoods:

Multi-layered door, window and ceiling architrave, builtin bookcases, nook benches and window seats; paneling on walls and stand-alone furniture pieces in walnut or darker woods, reproduction or antique furnishings. Four poster beds, dressers in hall or entryways adorned with mirrors over case goods, over period mantles, etc. Large square coffee tables and round tables for board games and to showcase floral arrangements filled with lilacs, hydrangea, and boxwood topiaries. 

Soft Furnishings:

  Long, feather-stuffed sofas and chairs to sink into, seating areas that invite conversation instead of TV viewing, high beds dressed in white bedding, and sheer unlined white linen drapery that offers uninterrupted. 

Accents:

  Table books, ginger jars, silver-plated items such as tea sets.  Artisan model sailboats, rattan, sea grass, coral, and sea shell items. Cotton, Linen, velvet and chic serving items.